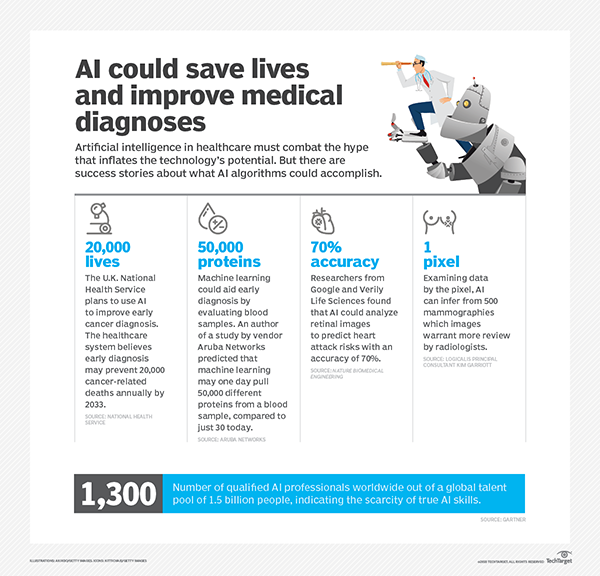 The hype around AI applications in healthcare spans decades, but the latest wave of AI tech suggests real-world traction.
Artificial intelligence is already promising big things at Massachusetts General Hospital and Brigham and Women's Hospital in Boston, where researchers have been building machine learning models over the past couple of years. Those models now help radiologists identify features in images and make more quantitative diagnoses, according to Mark Michalski, executive director at the MGH & BWH Center for Clinical Data Science.
"Proximity to data and machine learning and clinicians creates a great research environment, allowing people across the system to create machine learning tools for things like identifying pulmonary modules for screening for lung cancer, strokes and … growth abnormalities in pediatric patients," said Michalski, who is also a radiologist. "Now, we're seeing an explosion of those activities."
Within the MGH & BWH Center alone, some 20 different machine learning projects are underway.
For example, the center has deployed imaging technology from Nvidia. Officials have also formed strategic partnerships with GE and Nuance to help build a pipeline that sends scanner images to a server running a machine learning model to produce results for radiologists.
That's just one example of how AI applications in healthcare are developing to create opportunities for healthcare organizations and the channel firms that can help implement those systems. Growth of the AI healthcare market is expected to reach $6.6 billion by 2021, according to consulting firm Accenture.
Yet, while digital health offerings embedded with AI give healthcare organizations the ability to predict, automate and prescribe evidence-based business decisions, "AI-powered digital health solutions from a technology maturity and real-word applicability standpoint are still in their infancy," according to a Frost & Sullivan report. In 2018, technology penetration was estimated at only about 20%, the firm said.
This makes the healthcare vertical ripe for partners with experience in areas spanning medical records and data management; patient care and monitoring; and medical imaging, including cardiology and radiology data analysis.
Perficient expands into AI healthcare market
Perficient Inc., a digital transformation consulting company with a healthcare practice, works with clients to understand AI's capabilities, said Juliet Silver, chief strategist of the firm's Health Sciences division.
"[AI] comes in several different flavors and can be applied differently, depending on the use case," she said. The first thing Perficient does is educate clients on what AI is, then works with them to "visualize where this can provide benefits and return on investment or improvements in care."
Perficient became interested in exploring AI opportunities "because it's a natural progression of our data and analytics capabilities," said Christine Livingston, AI center of excellence director and AI chief strategist at Perficient. The company has worked in the healthcare market for over three years and has teams dedicated to big data, business intelligence, content intelligence and traditional business analytics, she said. "A lot of the technologies that are known today as AI grew out of some of those core capabilities."
Perficient works with both healthcare providers and solutions companies. The company utilizes AI in its three core offerings: digital health solutions, care delivery and data insights, Silver said.
In the healthcare payer space, "some of the greatest opportunities are in robotic process automation," Livingston said. "This is where we observe a user perform a task and you provide automation in the user interface."
Automation can be used to perform mundane tasks like claims processing or claims reviews and to simulate the same decision an examiner might make, she said.
On the healthcare provider side, AI applications in healthcare include using the technology to improve medical coding, reduce readmissions, optimize staffing, and predict patient volumes and staffing to match those volumes, Livingston said. That requires having a combination of technical solution architects, business analysts and data scientists who work in collaboration with data engineers to deliver these solutions.
For example, one of Perficient's clients, a healthcare systems provider, wanted to improve patient care with cognitive technologies. The client's healthcare system customers wanted to provide the best care management recommendations and plans for its moderate- to high-risk patients.
"In order to provide enhanced patient care, it was critical to have an efficient method to surface patients that matched the target chronic obstructive pulmonary disease profile," Silver said.
Perficient implemented an IBM Watson-based platform to surface symptom, disease, disorder and relevant medication data that was unattainable from the structured data in its electronic health record. ​This allowed the healthcare provider to understand and analyze unstructured patient information, ultimately transforming it into actionable data and previously unavailable insight into patient care scenarios and clinical decision-making​.
In addition, the software supported the extraction of factors that help examine a patient's care plan, and, by streamlining the patient file review process, increased the number of patients each care manager can spend time with daily​, Silver said.
AI applications in healthcare then and now
This is not the first time AI has been touted as having the ability to significantly impact healthcare. Use of the technology began in the late 1980s and 1990s, yet never really took off, officials said.
Radiology saw the advent of computer-aided diagnostics in mammography, and "it was heralded as an innovation that would transform breast imaging and mammography," Michalski said. "The broad consensus was the promise of that technology was never realized, largely because the performance of the tools never got to the point where it needed to be to be significantly useful for mammographers." It was used, but only as an adjunct technology, and it was not central to their practice, he said.
Today, hardware and compute technology have advanced. The hope is these advancements "will elevate the accuracy of the tool to a degree such that it's no longer sort of sidelined," and the tool will be something radiologists rely on. "There's evidence to show that that will be the case but … the jury's still out," Michalski said. "We've been through this before."
However, Michalski said machine learning has yielded promising results for interpreting images in the lab.
"This is the year, and that's why it's incredibly exciting to be in this field now … This year the technology will make its way into labs and clinics," Michalski said. "While we're careful optimists, we're quite hopeful the technology will be able to do some really transformative things."
Perficient is also taking a cautiously optimistic, long-range view of AI applications in healthcare systems.
"I think we mostly are hopeful that machine learning and AI are going to drive improvements in precision and personalized treatments," Silver said, "and [healthcare organizations can] leverage AI to quickly analyze an individual's genetic makeup, along with current lab reports and [the patient's] status, to provide very tailored treatment plans for patients. That's the ultimate nirvana."
---