There has been so much new on this since my quick update 2 weeks ago, I need to dedicate this newsletter to reviewing what's up.
First Human Data for the New Booster
Let me start with the good news from the first human data for the new monovalent XBB.1.5 vaccine that is getting set for distribution (at least in some places in the United States) by the end of next week.
These data were published (preprint) yesterday with Moderna's XBB.1.5 booster and show very good levels of neutralizing antibodies induced against BA.2.86, in keeping with the response to the target of XBB.1.5 (8.7X vs 10X rise, all participants, top, respectively). Also note the similar response to 2 of the major current circulating variants of EG.5.1 and FL.1.5.1.
Five Lab Studies of BA.2.86
5 groups have published characterization of the immune response of BA.2.86, and I'll review them in order they were published, all by preprint, except last via X (twitter) for now.
Yunlong Cao's group, Peking UniversityThis showed the marked antigenic distance (Panel A) for the variant compared with prior strains and Omicron recombinants (XBBs), the lack of neutralizing via monoclonal antibodies (Panel C), the low infectivity of cells (Panel D), and the mixed but low neutralizing antibody response after an XBB breathrough infection, BTI (Panel B).
Ben Murrell's group, Karolinska Institute, SwedenAs seen below, the lineage map derived from BA.2 (Panel A),the mutation map schematic of the spike (Panel B, from Tom Peacock) , the poor neutralization by monoclonal antibodies (Panel C), and some evidence of cross-reactivity after exposure to XBB.1.5 with somewhat improved BA.2.86 neutralizing antobody responses (Panel D).3. Dan Barouch's group, Beth Israel, BostonThere are 2 Figures from the report worth showing here. The first is a look at the boatload of mutations in the BA.2.86 spike as compared with BA.2, the ancestral strain (Wuhan-1), and XBB.1.5, in red below. No question BA.2.86 is a whopper of abundant mutations, which is what rang the alarm bells when it first surfaced. We're seeing (so far) an unlikely dissociation between new mutation load and magnitude of immune escape Next Figure).But the flip side (we'll get into FLip mutations in a bit) is the relative lack of immune escape seen with BA.2.86 for neutralizing antibodies induced, as shown below, more (almost 3-fold) than FL.1.5.1.4. The Sato Group, Tokyo, JapanThis was the most pessimistic readout for lab assessment of BA.2.86, very much different from the Barouch Lab results, asserting: "These results suggest that BA.2.86 is one of the most highly immune evasive variants ever." Although it replicated the low infectivity of cells like Yao's report, the immune evasiveness was much increased, as seen below.
Sigal Group, Durban, South AfricaThe results, here with live virus, are much more in keeping with Barouch's report for BA.2.86 not having profound immune evasiveness. Their conclusion :"Based on these results, this variant is not a game changer."It is important to underscore that the neutralizing antibody response to BA.2.86 isn't high in any of these reports, and that lab studies do not necessarily predict what a vaccine will induce in people. That's why I presented the first human data first here, because it is encouraging and, at the moment, the best we have for predicting the response of the XBB.1.5 booster, which of course is different from XBB.1.5 breakthrough infections (BTI).
The First Community BA.2.86 Transmission (Documented) in England
The UKHSA put out a report on the BA.2.86 variant today that revealed there have been 34 cases sequenced in England as of 4 September, of whom 5 of the people were hospitalized. Among the cases was an outbreak in a nursing home as summarized below , affecting 33 cases (of whom BA.2.86 were confirmed). It is hard to interpret in many ways, because the spring booster given (bivalent BA.1) is not the XBB.1.5 booster and the ventilation of the care home is unknown. As Ryan Hisner aptly pointed out, poor ventilation has been tied with outbreaks at nursing homes throughout the pandemic. The outbreak yet again highlight the risk in older people and it represents the first documented community transmission of BA.2.86, even though there may have been others antedating it but without the informativeness of sequencing SARSCoV2. The truth about infectivity, infectiousness, transmission, spread (or whatever you want to call it) will only become evident with more such studies, as we cannot rely on cell infectivity (the lab studies) to be a true proxy for spread among people, especially in close quarters.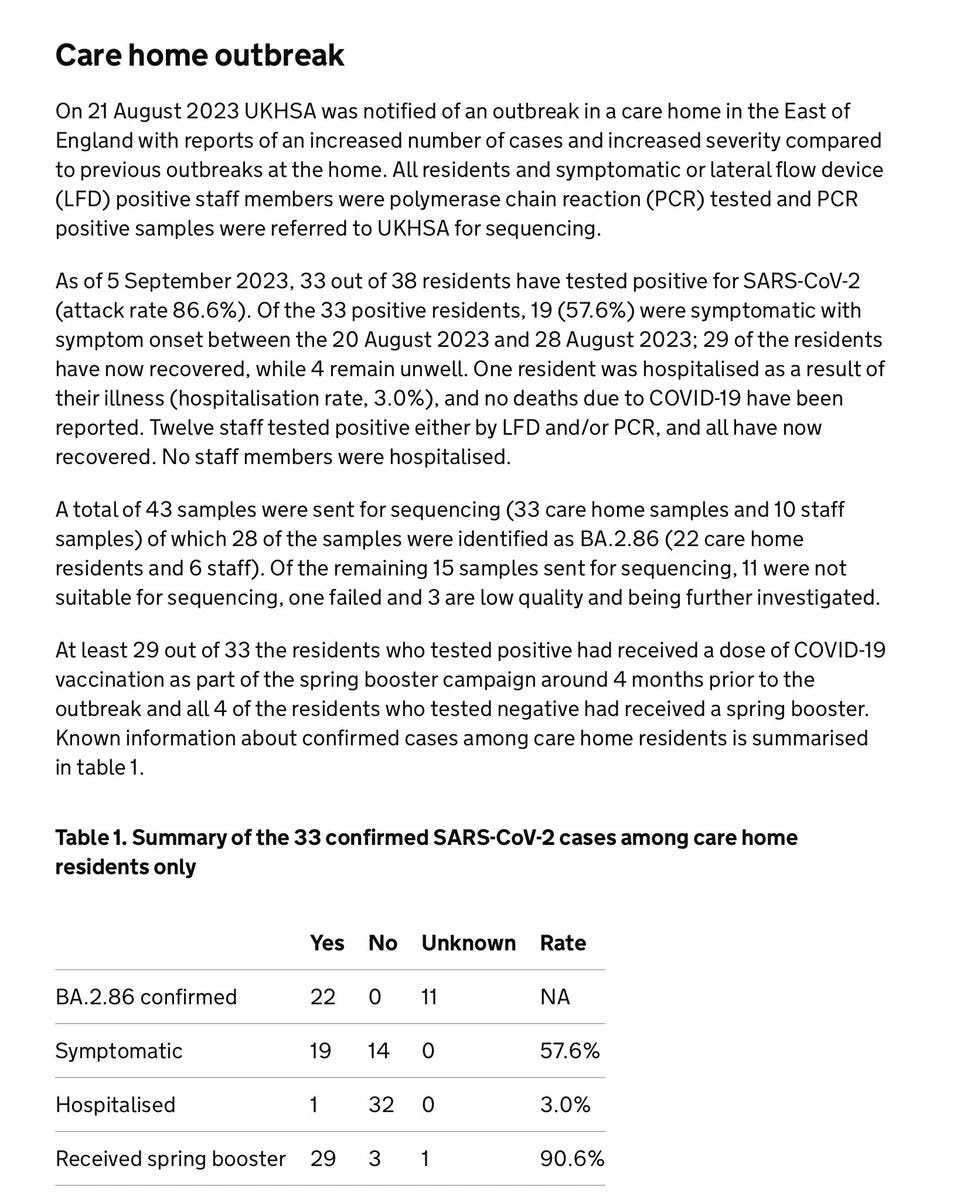 Otherwise, globally, as of 6 September there were at least 84 BA.2.86 cases sequenced, most recently 13 of 103 samples in South Africa. I'm sure based on CDC (see below) and other sources there are well over 100 cases sequenced as of today.
There's a Wave Out There
The data for wastewater of SARS-CoV-2 and hospitalizations are both showing upticks, and no sign of plateauing. It's obviously not as big as prior waves, but it's still incubating. Why is this happening?
It's not due to BA.2.86, which is only linked to every limited number of cases with sequencing. In fact, CDC tells us today:" The variant has been identified in nine U.S. states as of September 8, 2023, at 11:30 AM EDT— in people across Colorado, Delaware, Michigan, Ohio, Pennsylvania, Virginia, and Washington. What we're seeing is likely an admixture of waning of immunity (infection-induced and vaccine/booster-induced), lack of mitigation, and some impact of EG.5.1 and FL.1.5.1, XBB.1.16 variants which have a decided growth advantage.
But what's ahead is more worrisome. As I previously reviewed the FLip variants are gaining steam and will pose more immune evasiveness than current circulating variants. The double mutation in the spike (F456L and L455F) appears to be showing up in higher proportions of circulating variants, thereby exhibiting growth advantage to the current pool. Watch out for HK.3, EG.5.1.3 and XBB.1.16.6, all of which contain this FLip that are on the move in the US, and will likely be causing more trouble in the weeks ahead as one or more become dominant here. We don't yet know how well these FLip variants will be covered by the XBB.1.5 booster but likely not as well as what we've seen from the first human booster data at top of this newsletter.
The Imminent Boosters
All of this tells us the value of the XBB.1.5 booster as a wave gets going, and that it offers a solid humoral immune response. At the least, it should provide enhanced protection abasing sever Covid, albeit it will not provide any last (more than 1-2 months) of added protection vs infection. The FDA is likely to approve the booster today or early next week. The CDC advisory meeting is set for September 12th and there have been plans for rapid distribution to at least some places in the US soon to follow (perhaps by Friday, September 15th or sometime soon thereafter).
The unsubstantiated rumor is that only Pfizer and Moderna shots will go out at first, and that Novavax is being held up for further regulatory review. This is disappointing to me, as I had fully intended to get the Novavax shot as soon as available, having only had mRNA shots until now, and wanting to get the advantage of heterologous (mix and match) added kick in immune response. I may still wait for the Novavax, but not if the delay is more than a couple of weeks.
I think it is despicable that the manufactures are going to charge well over $110 per dose, and that fee may or may not be covered by different insurers, not to mention those without insurance. Recall the US government got the shots at ~$20/dose and these companies raked in untold billions of dollars throughout the pandemic. What a sad state to see biopharma companies exploiting the predicament.
We also have a certain physician who is advocating the new booster for only age 75 years, which is preposterous. The XBB.1.5 booster will address waned immunity in all people, and it is just a matter of bigger benefit for those at higher risk. Certainly people who are older than 65+ or immunocompromised should get a booster. Younger people should have the ability to make the choice as to whether they would like to have some enhanced protection
---